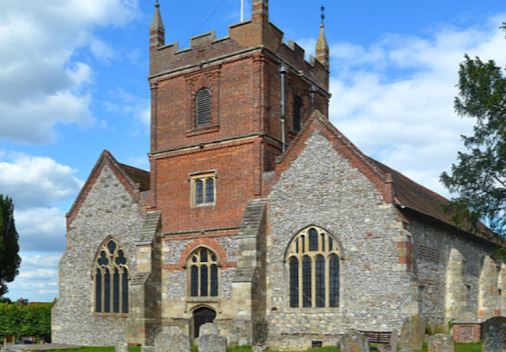 The beautiful All Saints Church, Odiham was a fitting venue on Saturday 24th September when Hampshire Harmony sang in a concert to raise funds for RAFA KIDZ Odiham.
Joined by Romsey Voices and Theresa Lunn for the occasion, we sang a wide and varied programme of music ranging from Ave Maria to Feel Good. Romsey Voices gave us Puttin' on the Ritz and many more well-known pieces as well as the moving Tibié Paiom sung in Old Slavonic. Theresa Lunn brought the house down with a highly entertaining medley from Mary Poppins dressed in character.
We sang to a capacity audience, whose smiling faces throughout, were a testimony to their enjoyment of our performances and reinforced post-concert by the number of complimentary remarks made by many.


QUOTES FROM THE AUDIENCE
"We thoroughly enjoyed the concert" J & G D
"We did enjoy your concert … Hampshire Harmony sang particularly well and an excellent conductor/compère." FY
"It was a really lovely evening … loved your programme" MM
"A superb concert/performance … the programme was so entertaining" JCF
"It's fantastic" CC
And many more in the same vein.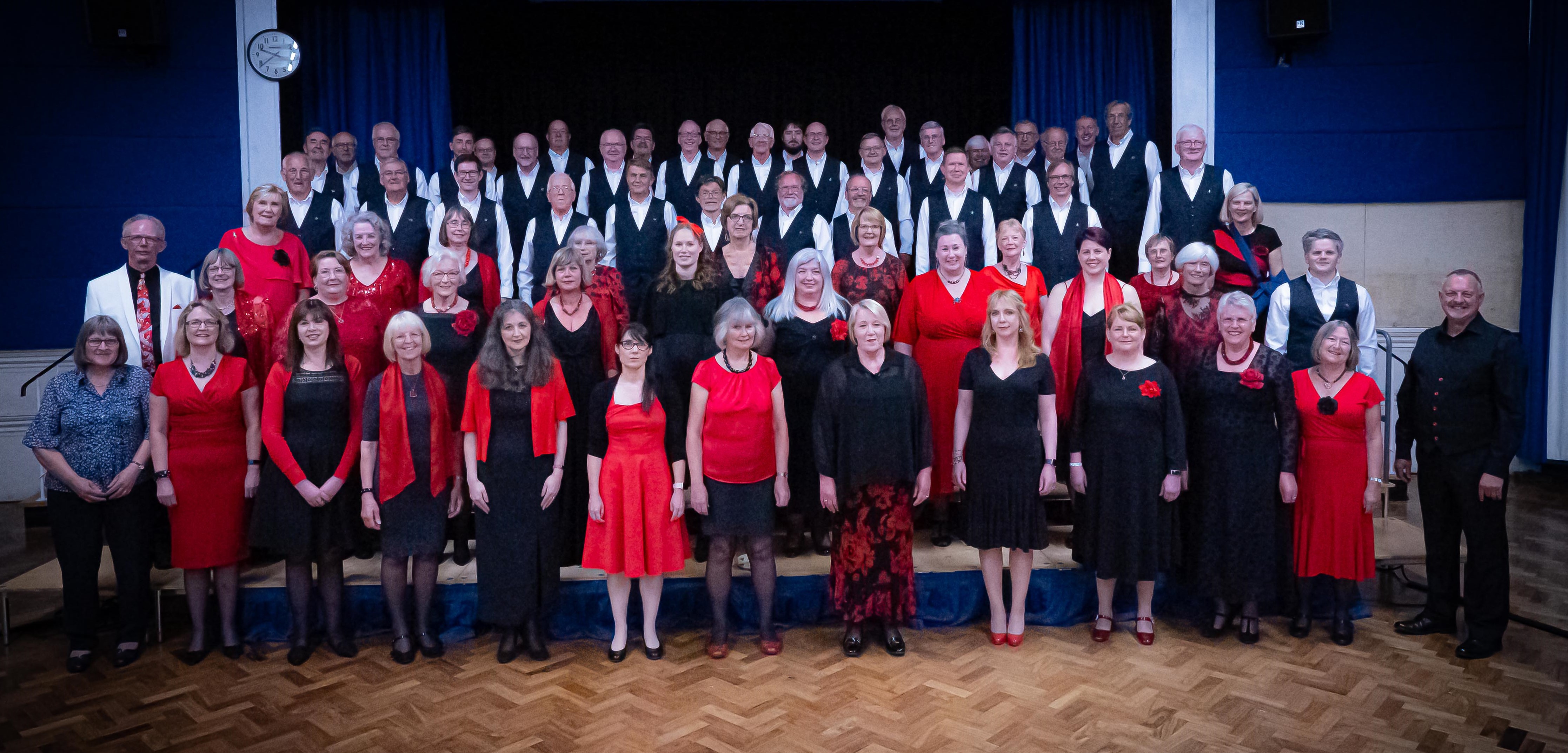 An air of anticipation, not to say excitement, hung over Aldworth School on Saturday 18th June as members of Basingstoke Ladies Choir gathered for their first annual concert in three years.
Originally arranged for June 2020 the concert began to resemble a rolling stone as it was rolled over not once, not twice but three times finally coming to fruition at the third attempt.
As the hall began to fill, the sense of excitement mounted. The audience size was difficult to estimate as people were coming in hoping to buy tickets at the door. The audience were terrific being both receptive and enthusiastic and enjoyed a wonderfully varied programme of music from both the Basingstoke Ladies and their guests, the award winning The Wessex from Wiltshire, and finishing with a beautifully controlled rendition by both choirs of "And can it Be".
We were delighted that we were joined for the evening by the Deputy Mayor of Basingstoke, Councillor David Leeks and his wife Amanda and our very supportive patron Dame Maria Miller, the MP for Basingstoke. We were also able to share the exciting news that from September Basingstoke Ladies' Choir will be adopting the new name of Hampshire Harmony and will be holding their first concert under their new name in Odiham in September.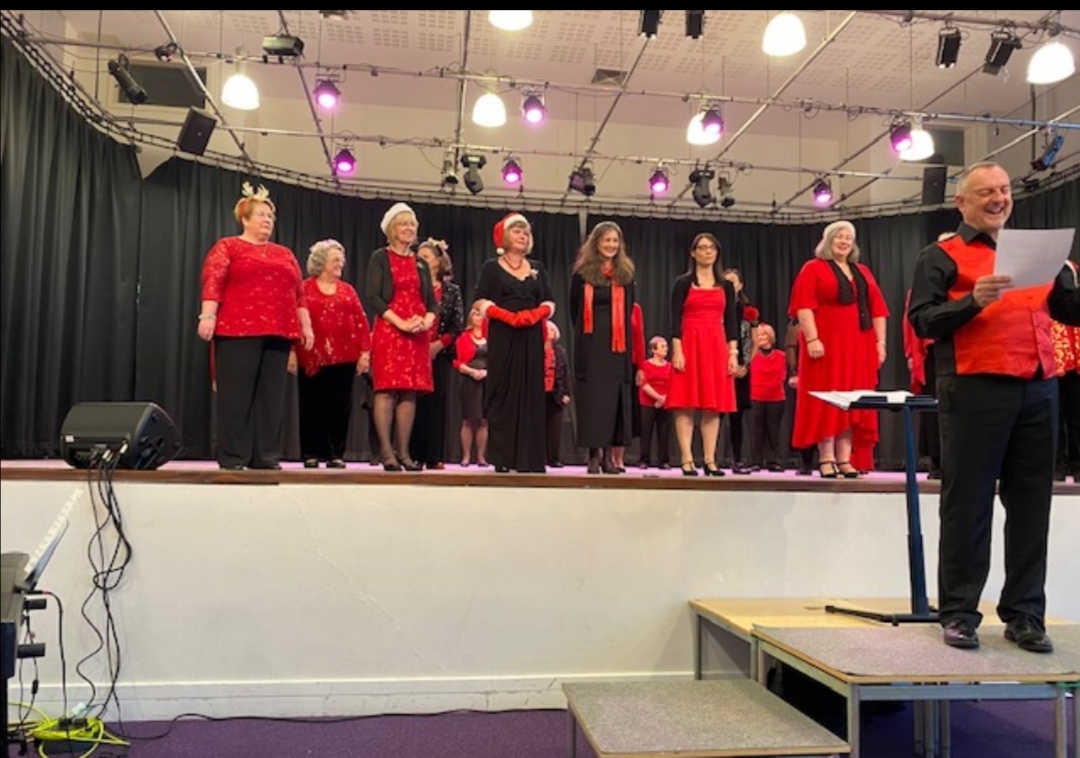 Saturday, 4th December was an overcast and cold day but for Basingstoke Ladies' Choir it was one of warmth and sunshine as they took to the concert platform for the first time in two years
.
An invited audience of families and friends enjoyed a short informal concert. A varied programme of music included traditional Christmas carols and songs from O Come All Ye Faithful to We Need a Little Christmas and Ding Dong Merrily on High to Jingle Bell Rock. New additions included the popular Hallelujah, Michael Jackson's Heal the World and from the musical Newsies, Seize the Day. The audience enthusiastically joined in the communal singing ending with Jingle Bells which had been specially personalised for the choir. The Chamber Choir gave a lovely rendition of The Angel Gabriel.
The choir made a tremendous visual impact dressed in the familiar choir colours of black and red with the addition of a little festive sparkle. Their bright smiles lit up the auditorium and their joy in singing was evident to all.
A wonderful afternoon ended with a raffle and bucket collection in support of the TESCO/Caritas/Spotlight Christmas Appeal which provides toys and gifts for the most vulnerable children in the Basingstoke Community. Our generous audience raised a magnificent £414.43 for this very worthy cause.