CHRISTMAS CONCERT FOR TESCO, CARITAS & SPOTLIGHT APPEAL
Date Posted: Wed, 8 Dec 2021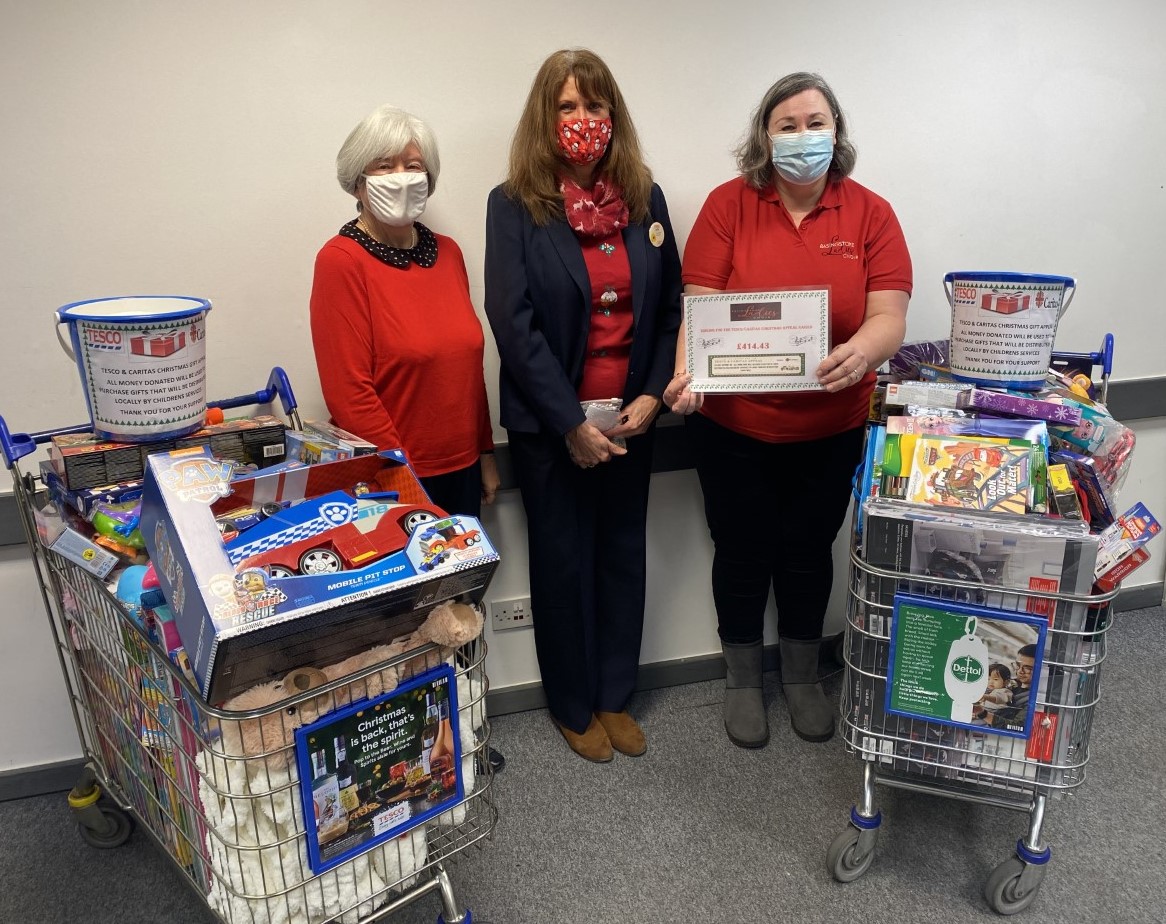 Basingstoke Ladies' Choir raised the choral rafters singing in their first concert for two years. The retiring collection and raffle raised a magnificent £414.43 for the TESCO CARITAS SPOTLIGHT FUND.
Margaret French, Acting Chairman said, "It was a truly fabulous afternoon and we are really pleased that our first concert fundraiser is helping the most vulnerable children in Basingstoke. It was great to perform for our families and friends."
A presentation was made by Margaret French and Maria Chung to Julie Shepherd, the Tesco community liaison person. Julie said that the money raised would enable them to provide around 80 gifts for those most in need.

Our thanks to all our families and friends at the concert who gave so generously.
BLC WALK GREAT BRITAIN FOR SEBASTIAN'S ACTION TRUST
Date Posted: Sun, 22 Aug 2021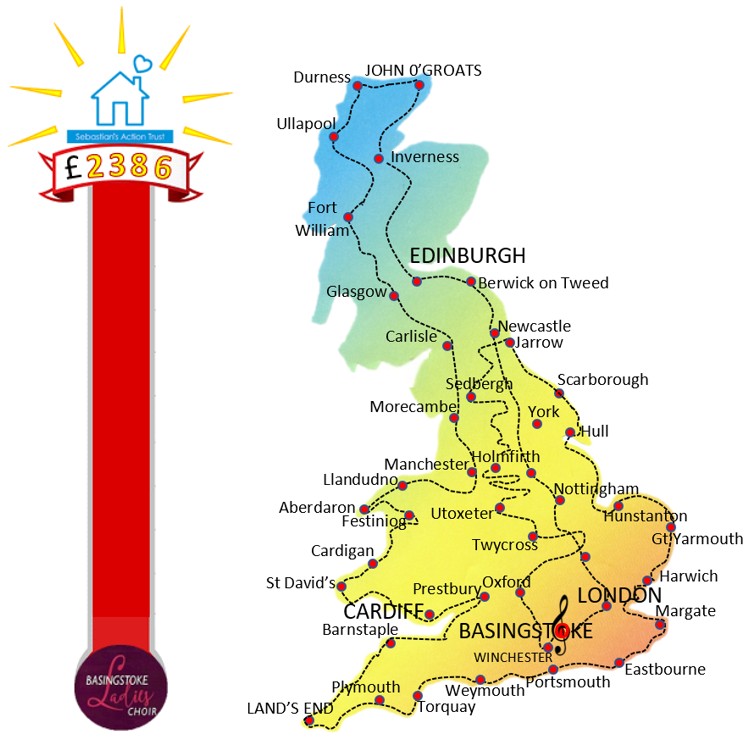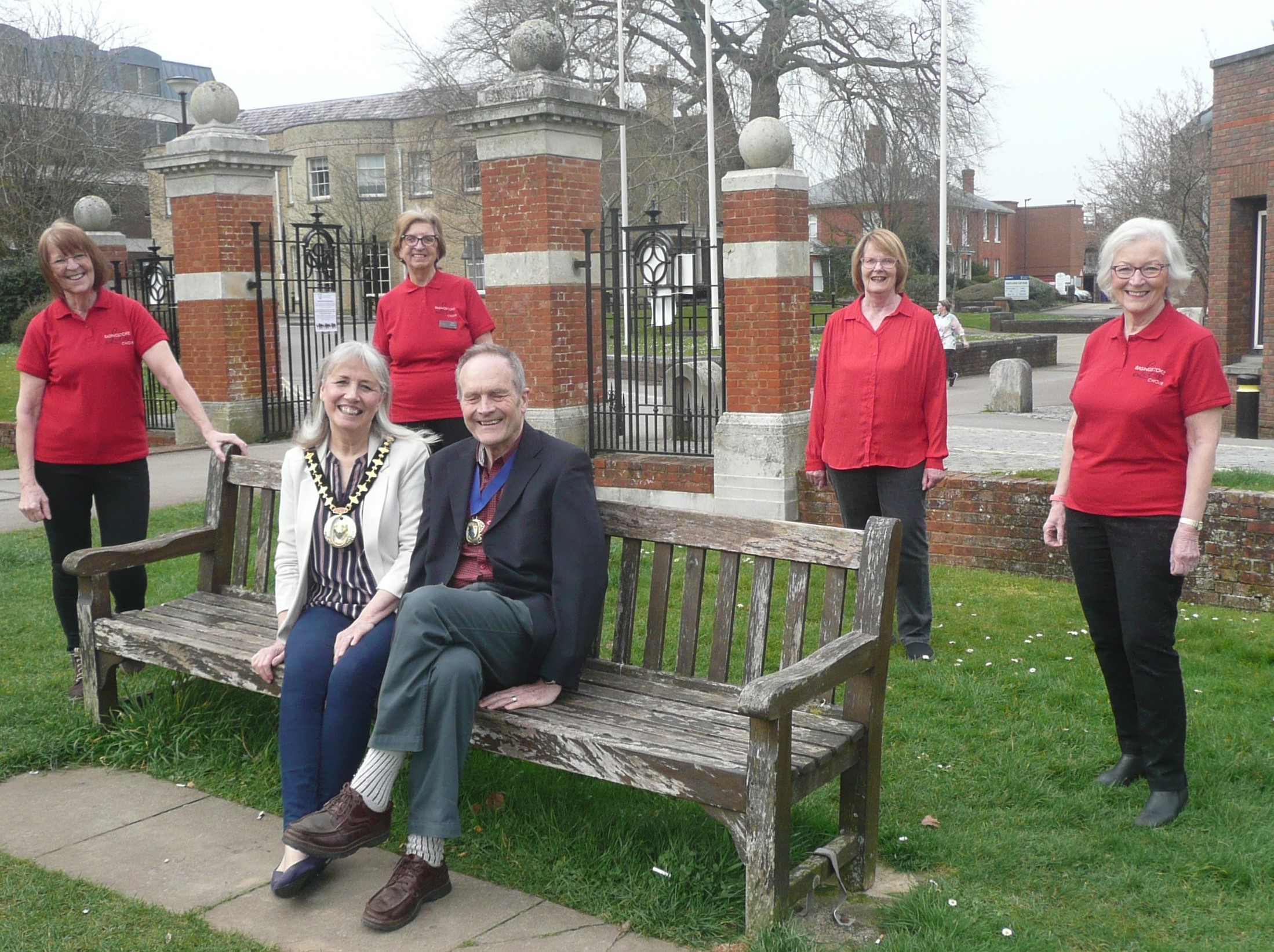 As we were unable to raise money through concerts due to Covid-19 we decided to do a virtual walk around Great Britain throughout the month of March to raise money through sponsorship for SEBASTIAN'S ACTION TRUST. They do amazing work supporting families of seriously ill children, walking alongside them from diagnosis, through treatment and beyond.

Starting from our rehearsal venue in Basingstoke, we headed towards London and then northwards all the way to John o' Groats. We had planned to walk 1000 miles but such was the enthusiasm of our walkers that by the end of the month we had covered 4,124 miles! On the way we had a virtual visit via Zoom with Prestbury St Mary's Choir and Barnstaple Male Choir. Family and friends joined us from various parts of the country, helping us to clock up the miles. We had over 60 walkers. Along the way we took photos of the places we walked through in our own locality. These are in our photo gallery.

On Wednesday 31st March members of the choir were greeted by the mayor, Cllr Diane Taylor and her Consort Andy Taylor at Memorial Park to mark the end of the walk and the fundraising effort. Cllr taylor said, " Very well done to the Basingstoke Ladies' Choir. This project combined exercise, targeted activity during the long days of lockdown and financial support for a superb charity. What a great achievement!"

We are very grateful to everyone who sponsored us and made donations which enabled us to raise £2,386. Due to the restrictions we have not been able to hand over the proceeds in person to Sebastian's Action Trust so although the money has been transferred we still hope to meet their team and have a traditional presentation.
St Michael's Hospice
Date Posted: Fri, 5 Apr 2019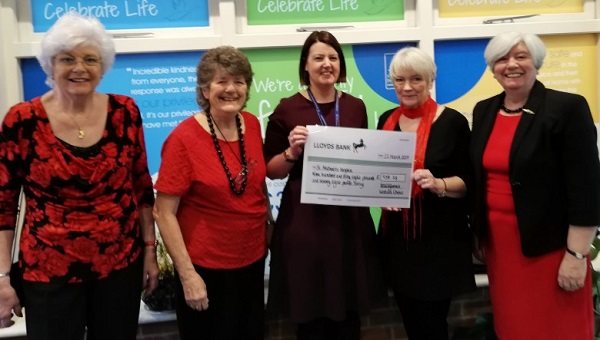 05 April 2019
Ann Connolly, Barbara Gough, Vicki Mason ( Community Events Co-ordinator) Viv Ballson and Lady Margaret French
members of the Basingstoke Ladies' Choir were very honoured to present St Michael's Hospice with a cheque for £958.78, the proceeds of a concert given for the Hospice some months ago in memory of former member Judy Ball. The presentation took place on 22nd March followed by a tour of the hospice and facilities. St Michael's is dedicated to the care of people with life limiting illnesses and we know that the money raised will be sensitively spent. Together with an exit collection the evening raised £1265.50.
Fundraising for YPI
Date Posted: Thu, 14 Feb 2019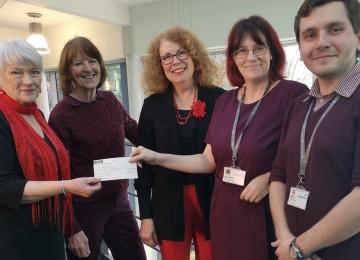 Our Christmas concert in 2018 supported 2 charities. This week members of the choir presented a cheque for £347 to the independent Basingstoke Charity, YPI, which supports young people aged 11 to 25 and their families by offering counselling and mentoring. In addition, a bucket collection on the evening raised just over £50.

In 2018 1000 individuals in this area received support. At a time when council contributions to such charities are being reduced, we are proud to have funded a course of counselling for 2 young people with the money raised at our Christmas concert
Holiday@Home
Date Posted: Tue, 29 Jan 2019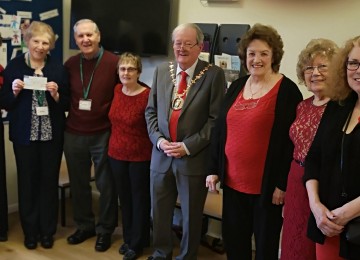 As in previous years a local organisation has benefitted from the Basingstoke Ladies' Choir Christmas concert when the choir sang to raise funds for the 'Holiday@Home' project run by St Joseph's RC church.


The St. Joseph's 'Holiday@Home' Team provides a meeting place every 2 months on a Tuesday afternoon for people who are isolated, elderly or disabled, of any denomination in the local community, where they can socialise, enjoy some entertainment, and enjoy a chat together and an afternoon tea.

A cheque for £347 was presented to Alfredo Lavorgna and Eileen Lavorgna, the founders and organisers of St Josephs 'Holiday@Home', by representatives from the choir. They were joined by the Mayor of Basingstoke, Cllr Sean Keating, who gave a talk about his role before everyone tucked into a lovely tea. £50 was also raised at the concert in a retiring collection. Alfredo was very excited about this unexpected amount and divulged half of the secret plans now afoot to treat the group to a surprise outing in the summer.