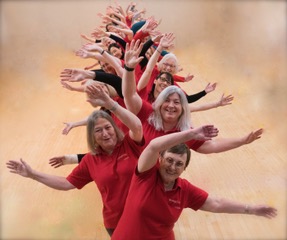 The cold and wet of winter were quickly forgotten, when on Saturday, 12th February an excited BLC membership gathered at Old Basing Hall for their first training day in two years.
From physical and singing warm up exercises to playing games designed to get us thinking of how different groupings can affect the sound we make, to jumping in and out of an imaginary river to test our skills in making an entry on time, we did it all to a great deal of laughter throughout.
In addition to learning new music and revising some of our existing repertoire we spent time on games and exercises related to technique. We now know what is meant by big steps up and baby steps down and much more! Our MD, Rob Elliott was certainly very creative in giving us ways to improve our sound, presentation and performance, challenging both our mental and physical skills.
It was not all hard work as we did find the time to enjoy breaks with pastries and a delicious lunch provided by Nicola. The lemon cheesecake was to die for.
We were well supported throughout the day by our wonderful volunteers: Gail, Jacquie, Libby, Chris, Philip, Roger, and Brian who gave their time to help in setting up the room and tables for lunch and storing everything at the end of the day. Brian in his marigolds up to his elbows in soapsuds will be an abiding memory of a truly brilliant day.
For some members this was their first experience of full-on training in every aspect of singing in a choir but all of us went home at the end of the day, exhilarated, fulfilled, ….. and somewhat exhausted!