HAMPSHIRE HARMONY 2023 - 2024 SEASON

| | |
| --- | --- |
| Type of post: | Public News Item |
| Sub-type: | Miscellaneous |
| Posted By: | Hazel Green |
| Status: | Current |
| Date Posted: | Sat, 19 Aug 2023 |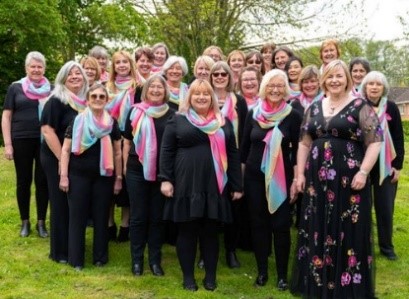 We have just completed our first year performing under our new name of Hampshire Harmony and we are delighted that it has been a great success both socially and musically. A fantastic concert in the beautiful church of All Saints, Odiham, got us off to a tremendous start and raised £900 for RAFA KIDZ. Christmas events and two wonderful appearances at The Anvil followed and our year ended with a fantastically successful annual concert, headlined HAMPSHIRE HARMONY DAZZLE, by the Basingstoke Gazette, made even more remarkable as our new MD had only been in post three months
We are now looking forward to the new Season with great enthusiasm as we return to rehearsals on Monday 4th September ready to host our first

OPEN EVENING

of our new year on 11th September. We would love to welcome you as a prospective member of our fantastic choir.
Come along to Everest Community Academy, Oxford Way, Basingstoke RG24 9UP, 7.30 – 9.30. For more information just contact our membership secretary, Corrine, membership@hampshireharmony.org.
If you would like to come and have a chat with us before then, we will be outside Morrisons on Saturday 2nd September from 10 a.m.
We have several events planned over the next twelve months: our Christmas Concert and a concert away with Wantage Silver Band both in December, a further appearance at The Anvil in March and our own annual concert in the summer. We also hope to take part in some music festivals. In between there will be further Open Evenings to which you will always be welcome or just come and see us on any Monday evening. You too could be enjoying the fun and friendship as a member of our choir and giving so much pleasure to others via our concerts and other appearances.