If you think you might like to join
HAMPSHIRE HARMONY
then come along to one of our rehearsals. We rehearse each Monday at Everest Community Academy in the conference room under the direction of Clare Oliver who begins working with us March '23. Rehearsals start at 7.30 but the doors are open from 7pm. We are on the first floor and there is a lift. Come 10-15 minutes before the start so we can give you a brief outline of how the rehearsal goes and introduce you to some of our singers.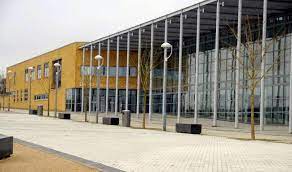 There are periods when the choir takes a short break – usually at Easter, a couple of weeks at Christmas/New Year, and the whole month of August. This helps in getting the balance between choir commitment and work/family life just right!
Our repertoire is ever-changing, and we are continually pushing the boundaries in exploring new and exciting music of all styles.
If, after a number of weeks, you think that you would like to become a member of the choir, Clare will arrange an assessment (in private) with you: to see how you have been getting along, ensure that you are in the right section, are able to listen, learn and replicate effectively, and have attained the standard to become a full member. This is all covered in a very low-key and relaxed manner and only takes a few minutes. Once you become a member you will have access to all our teaching resources via our website and much more. There is a subscription for membership and our treasurer can give you all the details.

If you would like t

o let us know that you will be coming

or need more information then contact our membership secretary, Joanne. (Details below) However, it is perfectly fine just to turn up on a Monday evening. One of our members will be at the entrance to greet you and tell you about the evening.
We look forward to welcoming you at our rehearsals.
Contact:
membership@hampshireharmony.org